PAIN AND HAPPINESS COEXIST                 Dr. REX, retired Psychologist
THE INTENT HERE IS TO MAKE ROOM FOR A BIT MORE REALITY:  THAT THE CO-EXISTENCE OF PAIN AND HAPPINESS IS A NORMAL STATE OF AFFAIRS AND THAT THE QUEST FOR A PAINLESS LIFE IS, AT BEST, SHORT LIVED.
THE DESIRE FOR A PAINLESS LIFE IS UNDERSTANDABLE, YET SEEMINGLY UNSUSTAINABLE. THE UNDESIRABLE CONDITION OF PAIN APPEARS ESSENTIAL FOR THE DESIRED OUT-COME OF HAPPINESS. IF I WANT GREATER HAPPINESS AND PEACE, I MUST SUFFER AND LEARN MORE FROM THAT PAIN. FOR IT IS THE PAIN OF LIFE THAT MOTIVATES ME TO LEARN THOSE VERY THINGS NECESSARY FOR GREATER HAPPINESS.
CONVERSELY, IT IS THIS SAME PAIN THAT CAN MOTIVATE AN ESCAPE INTO AN ADDICTIONS. THIS IS NOT A WELCOMED TRUTH. NEVERTHELESS, " SOMEONE WHO KNEW WHAT HE WAS TALKING ABOUT ONCE REMARKED THAT PAIN WAS THE TOUCHSTONE OF ALL SPIRITUAL PROGRESS. (AND I ASSUME SPIRITUAL PROGRESS IS HOW GREATER, DURABLE HAPPINESS IS OBTAINED.) HOW HEARTILY WE A.A.'S AGREE WITH HIM.  FOR WE KNOW THE PAIN OF DRINKING HAD TO COME BEFORE SOBRIETY, AND EMOTIONAL TURMOIL BEFORE SERENITY".  ( 12 X 12; PG 93)
GENERALLY, FOR THE NEWLY RECOVERING ALCOHOLIC THERE IS MUCH SELF-PITY, EVEN ANGER OVER THE PAIN WHICH SEEMS UNJUST TO HIM. IN HIS MIND HE HAS TRIED VALIANTLY TO KEEP HIS WORLD HAPPY, YET ALL SEEMS AGAINST THAT PLAN. THIS SEEMS A HOPELESS MYSTERY TO HIM. HE USUALLY FALLS INTO THE "F*** IT ATTITUDE" AND TRIES TO DRINK HIS PAIN AWAY, FOR HE FAILS TO SEE THAT MUCH OF HIS PAIN IS A NATURAL CONSEQUENCE OF HIS OWN ALCOHOLIC CHOICES.
AS ABSURD AS IT MAY SEEM TO HIM, GETTING SLOPPY- ANGRY AT A TRAFFIC COP WILL NOT BRING GREATER PEACE AND HAPPINESS, BUT PROBABLY SOME MIXTURE OF CONSEQUENCES HE DEEMS FLATLY UNFAIR.  UNTIL HE LEARNS THE HARD LESSON FROM PAINFUL CONSEQUENCES THAT DRUNK DRIVING LEADS TO GREATER PAIN THAN HAPPINESS, HE IS NOT LIKELY TO CHANGE. " IN EVERY CASE, PAIN HAD BEEN THE PRICE OF ADMISSION INTO A NEW LIFE". (12 X12; PG 72)
IN MY OPINION THIS CONCLUSION IS TRUE BECAUSE BAD DECISIONS NORMALLY BRING BAD CONSEQUENCES.  THE MORE OUR DECISIONS ARE BASED ON INCORRECT ASSUMPTIONS ABOUT REALITY, THE MORE WILL NEGATIVE CONSEQUENCES FLOW INTO OUR LIVES… THE LAW OF THE HARVEST…WHATSOEVER A MAN SOWS, THAT SHALL HE ALSO REAP. IF A MAN PLANTS A TOMATO SEED, HE WILL GET A TOMATO BUSH, NOT AN APPLE TREE.  A CANTALOUPE SEED WILL NOT BRING FORTH CORN; ONLY A CORN SEED WILL DO THAT.  EVERY SEED BRINGS FORTH FRUIT AFTER ITS OWN KIND. NOTHING MORE AND NOTHING LESS.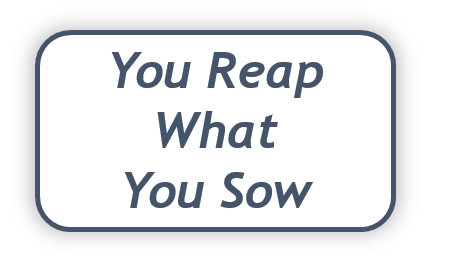 "The one who sows sparingly shall reap sparingly; and the one who sows bountifully shall reap bountifully." II Corinthians 9:6
"THERE IS A LAW IRREVOCABLY DECREED BEFORE THE FOUNDATIONS OF THIS WORLD UPON WHICH ALL BLESSINGS ARE PREDICATED. AND WHEN WE OBTAIN ANY BLESSING AT THE HAND OF GOD, IT IS BY OBEDIENCE TO THAT LAW UPON WHICH IT IS PREDICATED."
THERE SEEMS TO BE NO ESCAPING THE LAW OF CONSEQUENCES AS A CENTRAL FEATURE OF REALITY.
MUCH OF A.A.'S 12 STEP PROGRAM IN BASED ON AN HONEST REVIEW OF OUR CHOICES AND THE PAIN WE CAUSE OURSELVES THAT RESULTED FROM THEM.  THE LEARNING PART, AT LEAST IN A.A., COMES FROM CHANGING OUR CHOICES: "AFTER MAKING OUR REVIEW WE ASK GOD'S FORGIVENESS AND INQUIRE WHAT CORRECTIVE MEASURES SHOULD BE TAKEN." ( BIG BOOK; PG 86) IN RELIGIOUS TERMS THIS IS CALLED REPENTANCE. (turning about face—going the opposite direction)
"WITHOUT REPENTANCE THERE IS NO REAL PROGRESS OR IMPROVEMENT IN LIFE. PRETENDING THERE IS NO SIN (IN OURSELVES EQUALS DENIAL AND) DOES NOT LESSEN IT'S BURDEN AND PAIN…THE DIVINE GIFT OF REPENTANCE IS THE KEY TO HAPPINESS HERE AND HEREAFTER" (CHRIS CHRISTOFFERSON; GEN CON. 2017)
IT IS THOSE SAME PAINFUL CONSEQUENCES THAT EVENTUALLY MOTIVATE US TO MAKE A DIFFERENT CHOICE.  AND IT'S THE BETTER CONSEQUENCE RESULTING FROM BETTER CHOICES THAT WE CALL PEACE AND HAPPINESS. THIS IS WHY RECOVERY IS A PROCESS, NOT A ONE TIME EVENT AS SOME WOULD WISH IT TO BE.  MAKING DIFFERENT CHOICES MEANS CHANGING OURSELVES.
LET'S FACE IT. THAT'S USUALLY A HARD PATH TO TAKE. "BY DISCOVERING WHAT OUR EMOTIONAL DEFORMITIES ARE, WE CAN MOVE TOWARD THEIR CORRECTION. WITHOUT A WILLING AND PERSISTENT EFFORT TO DO THIS, THERE CAN BE LITTLE SOBRIETY OR CONTENTMENT FOR US."  (12 X 12; PG. 43)
BACK TO OUR BEGINNING POINT: PAIN MUST PRECEDE HAPPINESS. PAIN IS WHAT MOTIVATES US TO CHANGE FROM MAKING DUMB DECISIONS USUALLY BASED ON WISHFUL FANTASY, TO BETTER DECISIONS WHICH ALIGN BETTER WITH REALITY, AND FROM WHICH BETTER CONSEQUENCES FOLLOW. MODERN SCIENCE IS BASED ON THOSE CONDITIONS.
IN SOME WAYS, PAIN AND HAPPINESS ARE TWO PARTS OF ONE WHOLE. WITHOUT PAIN THERE CAN BE LITTLE HAPPINESS. IF WE WANT MORE HAPPINESS, WE'LL NEED TO LEARN FROM MORE PAIN, FRUSTRATION, DELAYS AND UNEXPECTED OUT-COMES. SO, IN SOME FASHION I NEED TO MAKE ROOM FOR THE CO-EXISTENCE OF PAIN AND HAPPINESS. IF I WANT TO BECOME HAPPIER THIS TIME NEXT YEAR, I NEED TO ACCEPT THE ROLE OF PAIN IN THAT GROWTH THIS YEAR.
A UNIVERSAL CHOICE: ALTHOUGH MOST PAIN IS THE CONSEQUENCE FROM OUR OWN IGNORANT DECISIONS, SOMETIMES IT IS THE RESULT OF OTHER PEOPLE'S FREE AGENCY OVER WHICH WE USUALLY HAVE NO CONTROL. NEVERTHELESS, WE STILL HAVE THE CHOICE OF HOW WE ARE GOING TO RESPOND TO OTHER PEOPLE. THIS IS A UNIVERSAL DECISION COMMON TO EVERY SOUL THAT EVER LIVED ON PLANET EARTH.  THIS IS WHERE ACCEPTANCE IS CRITICALLY NEEDED, OR FORGIVENESS, OR BOUNDARY SETTING, OR COMPASSION.
TYPICALLY, MANY FOLKS USE SOME FORM OF ANGER TO TRY TO CHANGE OTHERS. SOME EVEN PREFERE DENIAL. AND SOME USE SELF-ISOLATION FROM OTHERS. "HOW DO I WANT TO RESPOND TO THE FRUSTRATIONS CAUSED BY OTHERS?"  I SUGGEST THIS IS A DIFFICULT, YET UNIVERSAL CHOICE FOR ALL.     IT IS A CHOICE YOU AND I HAVE ALREADY MADE, ONE WAY OR THE OTHER. IT WOULD BE WELL TO OWN UP TO OUR CHOICE ON THIS MATTER.
WHY IS THIS CHOICE ALWAYS REQUIRED? I TURN TO THE 12 X 12, "ALL PEOPLE ARE TO SOME EXTENT MENTALLY ILL AND FREQUENTLY WRONG." I FIND THIS TRUE EVEN IN GOOD MARRIAGES, WITHIN GOOD FAMILIES, AND AMONG BEST FRIENDS. IT SEEMS IMPOSSIBLE TO FIND A PLACE IN THIS LIFE FREE FROM THE NECESSITY OF CHOOSING HOW I'M GOING TO RESPOND TO FRUSTRATING DIFFERENCES. THAT IS A FACT WORTH ACCEPTING ITSELF.
I'M NOT SAYING THAT MY POSITION ON THIS IS THE ONLY WISE CHOICE, OR EVEN THAT MY DECISION WON'T CHANGE DOWN THE ROAD. BUT IT IS UNAVOIDABLY MY DECISION TO MAKE, AND I AM ACCOUNTABLE FOR IT…  ACCOUNTABLE IN THE SENSE OF LIVING WITH IT'S CONSEQUENCES. HOW I CHOOSE TO RESPOND TO IRRITATING INDIVIDUAL DIFFERENCES CAN PRODUCE BOTH HAPPY AND PAINFUL CONSEQUENCES FOR MYSELF."